La letteratura irlandese è spessissimo letteratura del territorio. Con questa mappa saremo sulle orme di Quirke (il suo nome di battesimo non è ancora mai comparso nei libri…), l'anatomo-patologo nella Dublino degli Anni Cinquanta, in Dove È Sempre Notte (Guanda, 2007. Originale: Christine Falls, 2006) di John Banville.
Non un semplice noir, e soprattutto, un libro di colui che forse è attualmente il miglior romanziere irlandese. Anche quando scrive sotto lo pseudonimo di Benjamin Black…
Dove È Sempre Notte: Un libro di John Banville. Anzi, no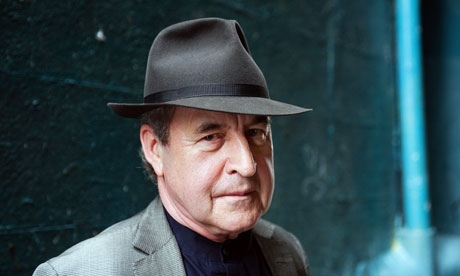 Enrico Reggiani nel suo blog ci mette la pulce nell'orecchio sulla questione della scelta di John Banville di scrivere i suoi noir sotto pseudonimo, visto che, dopo aver vinto il Booker Prize con The Sea (Il Mare, Guanda) nel 2005, l'autore non ha né bisogno di presentazioni né, se vogliamo, assolutamente bisogno di nascondersi dietro a uno pseudonimo.
Di certo un autore ha il diritto di scegliersi un diverso Io quando scrive e che nella scelta le ragioni personali e letterarie spesso si incrocino lo lascia trasparire lo stesso Banville:
Curiously, when I think about Quirke and when I think about Benjamin Black,
I mix them up.
John Banville su Benjamin Black
Resta il fatto che Dove È Sempre Notte è un bellissimo libro, in cui le meccaniche della letteratura di genere (in ultima analisi Quirke è un investigatore, un indagatore del torbido, non lontano da Philip Marlowe, e non è un caso che Banville, anzi Black, si appresti a far rivivere proprio Marlowe in un romanzo) hanno, diciamo così, la fortuna di potersi avvalere dell'inventiva e della tecnica di uno dei più grandi narratori di lingua Inglese viventi. In questo post, il primo del progetto Irish Literature: Mapped! di Italish, ipertestualizziamo il libro e lo dotiamo di una ItalishMagazineMap con cui potrete seguire Quirke per le strade di Dublino (e di Boston…).
Media
Audio e immagini per entrare nel mood del libro… senza spoiler.
Dublino nel 1961 (I romanzi sono ambientati negli anni '50, e Dublino non è cambiata molto nel decennio successivo…)
 Link O'Teca:
Trovi QUI il mashup di tutte le ItalishMagazineMaps.